We aren't a large shop but we work BIG!  Our specialty is full builds and In and Out installations.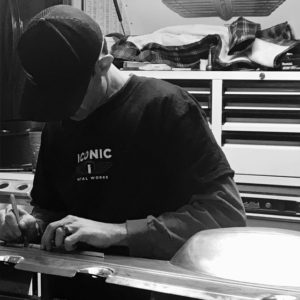 Our Work Guidelines
We work on a time and materials basis, and do not do estimates except on a select few installs. We do discuss a budget, based off of the original outline of the job. As the project changes, price can as well. But we are honest and straight forward. I often explain that the relationship with our customers is the most valuable asset, we have a set amount of employees working set hours, with a full book of work, we make no benefit in up selling you on work you don't need, as we can simply move on to the next job and still make the same amount. Instead we seek out good customers and maintain a repeatable relationship with them.
Payment Guidelines
We take deposits on large purchases being made in the near future. Which will be accounted for within the following 2 billing cycles. Small items may be purchased without deposit and due for reimbursement on the 2 week cycle.Your money goes to your project, not some other car that is in the hole. We charge a fee of 5% of the labor billed for consumables, this is small items that do not get itemized on a bill, this includes items like, small hardware, wiring supplies, chemicals, solvents, grinding/sanding media, weldings supplies, rags etc. This is a very cost effective method of charging for these items, it prevents the technician from having to record every small item used on a car, which keeps them productive and focused.